That Uncertain Fork in the Path
Saturday October 26 2019, 20:00
Multimedia Interdisciplinary Performance by: The Approximate Consort, The Supernumeraries & the Cinetractor Project, Surface to Volume & Schoolalmamahler, The Shadow Seminary School
Tickets sold by cash at door, tickets are €10, student discount is €5. Reservations can be made at cloudstrata@gmail.com.
The Approximate Consort, The Supernumeraries & the Cinetractor Project perform Pictures at an Exhibition
Alan Purves leads an ensemble of happenstance instrumentaton with associates who join him in learning the classic repertory through a series of unorthodox approaches which invariably results in the distinctly approximate characteristic of their name. Thus Modest Mussorgsky's piano staple, known for the many orchestral makeovers it has garnered over time, gets one of its weirdest renovations while providing interludes for the performance of a series of live cinema projections –the pictures at this exhibition – that are projected around the space of the Kunstkapel.
The Approximate Consort and Supernumeraries includes Alan Purves, Jimmy Seransky, Ada Rave, Stefania Petroula, Iza Pacewicz-Wysocka and Maria Mavridou.
Photo's on this page/fotografie: Mattis Cuypers (https://www.mattiscuypers.net/)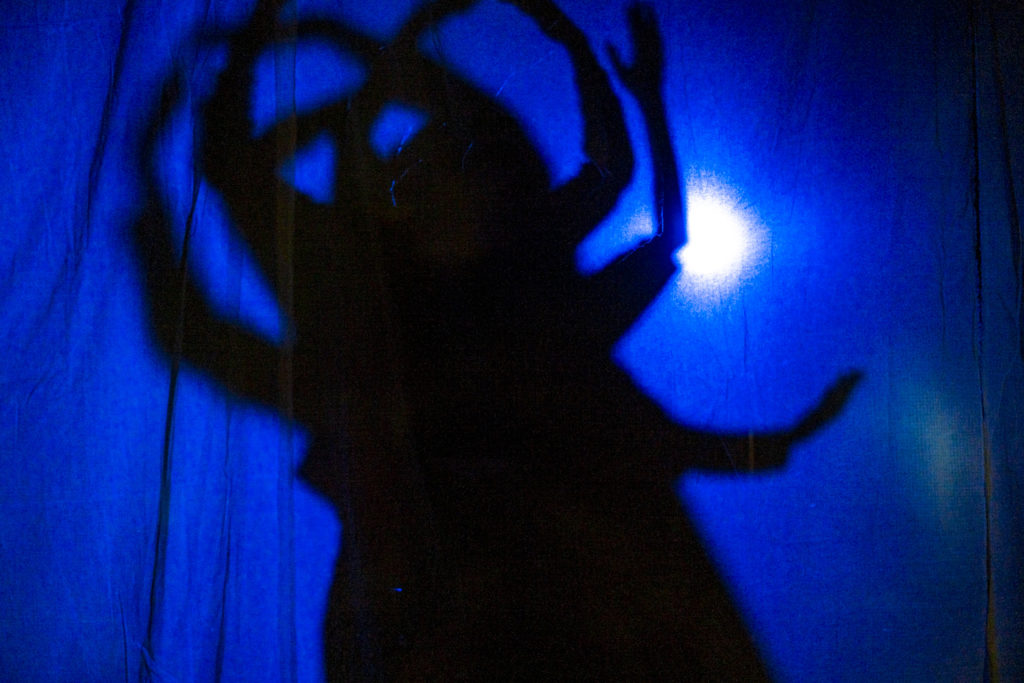 ---
Schoolalmamahler & the Surface to Volume perform Crooked Paths/Lonesome Walk
This piece quite literally exploits the idea of the twisted rambling path as the process of persuïng an idea where it must go. The basis for this work is the recently rediscovered song by Alma Mahler, Einsamer Gang, which is an expressionist fever dream of dark intensity. Surface to Volume provides a setting for the song which crosses shadow play with projections.
Performance by Bjork Nielsdottir and Yinske Silva.
---
The Shadow Seminary School performs Opus Tripartitum by Meister Eckhardt
This is the third part of the series of works that consider the previous life of the Kunstkapel as a Seminary rehearsal space. Following on the Spiritual Exercises of the Jesuit Ignatius of Loyola this project is informed by the example of the Dominican Meister Eckhardt, so influential to modernist experimenters like John Cage. Eckhardt's profound ideas of transcendental and intellectual theology led to his branding as a heretic. The Opus Tripartitum, written in latin, is the secret hiding place of the thesis 'on being, what exists and nothing.' Eckhardt's sublime paradoxes are engaged with sound, light, music, dance and theater which are sufficiently scrambled to make it difficult to categorize this work. In this piece, Catholic adepts become free of their own shadows which having dislodged themselves demonstrate a bizarre parallel universe that the Kunstkapel might help us to better perceive. Crucial to the project is the Archesonic sound design of Mark Bain which allows the entire building to feedback on itself and hence summon the old ghosts of its past.
The ensemble includes Ferinand Doumic, Sriram Ganesan, Levi de Kleer, Robbert Van Hulzen, Bjork Nielsdottir, Yinske Silva, Manuela Lucia Tessi, Simone Goslinga, Tamira Wijngarten, Maria Mavridou, Stefania Petroula and Iza Wysocka Pacewicz.